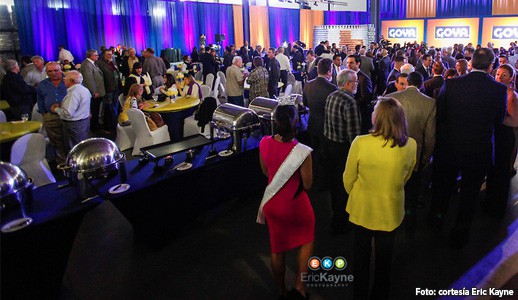 Goya Foods, the largest Hispanic-owned food company in the United States, opens four new state of the art manufacturing, production and distribution facilities in Texas, Georgia, California and New Jersey as part of a $250 million investment for a global expansion to support consumer demands of Goya's healthy product lines.
As the only Hispanic food company that offers consumers an entire line of low sodium, organic, diet and sugar free products, Goya's cutting edge, high tech facilities will maintain its mission to produce authentic, high quality and affordable products without sacrificing taste to national and global markets.
«With the growing Hispanic population and the need for good nutrition, it's an opportune time for Goya to expand,» says Bob Unanue, President of Goya Foods. «For more than 78 years, Goya has not only positioned itself as a leader in the Latin American food industry and a trusted American brand, but as an iconic symbol of the Hispanic culture».
Each of Goya's new facilities will help reach new consumers and strengthen the Goya brand throughout the United States and internationally including Latin America, the Caribbean, Europe, Africa, and Asia.
The new 350,000 square foot Houston facility that sits on a 130-acre farm, will serve as the prime hub for the manufacturing and distribution of Goya's healthy bean lines and will produce 1,000 cans of beans per minute serving consumers west of Mississippi.
The positioning of the Texas facility is a strategic location for Goya that provides key access to skilled workforce, affordability, a favorable business climate, railroad transportation, and acts as a launching pad for global export from Houston's port and the Panama Canal. The environmentally sustainable center is also equipped with an advanced water treatment plant that will recycle and purify water used for the soaking and transporting of beans and other products, crop irrigation and replenishment of local streams.
The 250,000 square foot facility in Los Angeles will serve all of the West coast and the 151,000 square foot facility in Atlanta will serve all of Georgia and the surrounding areas. Goya's new Northeast headquarters in New Jersey, scheduled to open in fall of 2014 and totaling nearly 900,000 square feet, will be Goya's largest expansion in the company's history.
The new site in Jersey City will feature office space and a warehouse totaling 638,000 square feet on 40 acres of undeveloped land and the fully renovated 240,000 square foot facility in Secaucus will be armed with a new rice packaging line to produce 600 bags of Goya rice mixes per minute, six times faster than its current production.