Are you looking for the best stevia zero calorie sweetener brand for your store or kitchen needs? Metco's Svetia might be what you need. Svetia is made with cane sugar and Rebaudioside A, the best tasting part of the stevia leaf. This product does not contain calories or artificial ingredients.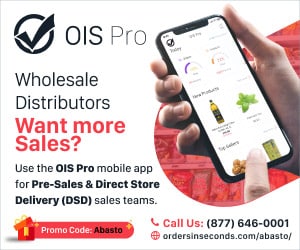 There is abroad variety of stevia brands in the market today claiming to be the best sweetener alternatives to traditional sugar. But, with so many stevia products it can be hard to pick the best one for your needs.
In this article, we show you why Svetia is the best-tasting option among stevia extract sweeteners and why you should consider selling it in your store and using it in your kitchen.
Who is Metco?
Metco® is a Mexican company with more than 25 years of experience in research, development, and production of supplements and sweetening products.
They are the pioneer in zero-calorie sweeteners, low-calorie sweeteners, high-yielding sugars, and several sugar-derived products that meet the needs of all consumers. Their products are offered in the Mexican Republic, Canada, United States of America, Spain and Central America.
The most recognized Metco brands in the consumer area are Svetia, Sugar BC, DB Sugar, Genuine Metco Mascabado, and Sweet 0.
Why is Svetia better than other sweeteners made from stevia?
Svetia is made with all natural ingredients
Does not sacrifice the taste profile of sugar cane
Svetia formula with cane sugar provides a great natural taste with zero calories and no aftertaste.
Made with Rebaudioside A or Reb A, a highly purified extract of stevia leaves. It's 200 times sweeter than sugar and has no impact on blood sugar levels.
Svetia Product List
See the different presentations of Metco's Svetia products available:
Svetia Zero Calorie Sweetener
It can be used in a great variety of cold or hot food, baked or cooked. It's ideal for warm or cold beverages as well. Sprinkle on to sweeten fresh fruit, breakfast, cereal or yogurts. It contains 3.7 kcal per 1 gram serving.
This stevia extract zero calorie sweetener is a natural excellent testing option, without a bitter aftertaste. Erythritol or artificial sweeteners are not used in its production.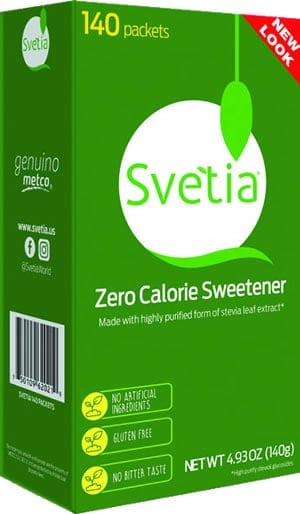 Svetia Sugar Blend
Ideal for creating moist cakes and chewy cookies because sugar blend retains moistness. Sprinkle on fresh fruit or breakfast cereal. It can also be used in cold and hot beverages.
Half tablespoon of Svetia Sugar Blend equals in sweetness to one tablespoon of sugar. When used properly, it helps limit sugar and calorie intakes. There is no artificial flavors or colors added, and it does not contain Aspartame, Saccharin or Erythritol.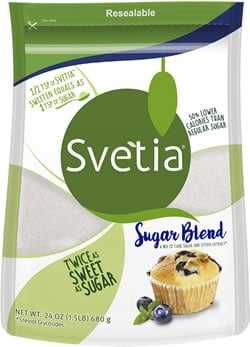 Equivalent Table: Svetia vs Sugar
Get a closer look at how Svetia compares to regular sugar.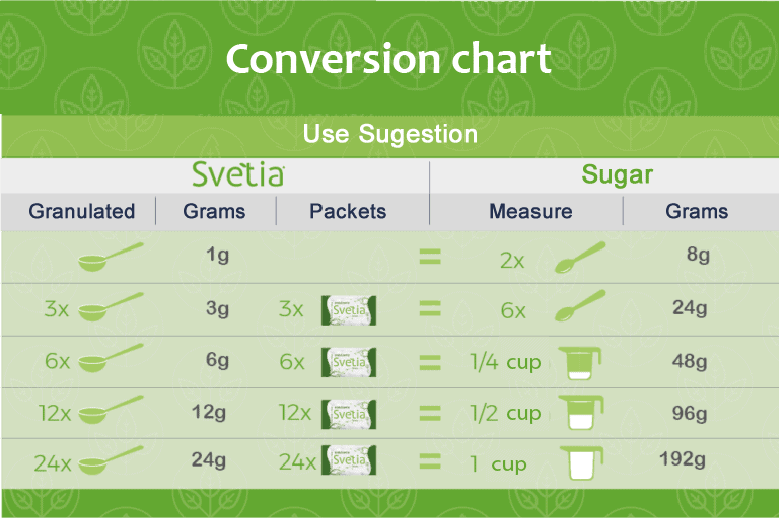 CONTACT INFORMATION
If you want to sell or distribute Svetia products in your store, contact us:
Contact: José Miguel Flores
Phone: +52 55 5047 1611
Email: [email protected]
Website: http://www.svetia.us/
Follow them on Facebook, Instagram, and Twitter
EXCLUSIVE PROMOTIONS FOR YOUR STORE!
---
To find out about other "Hot Products" in Abasto, visit our Product Showcase section.