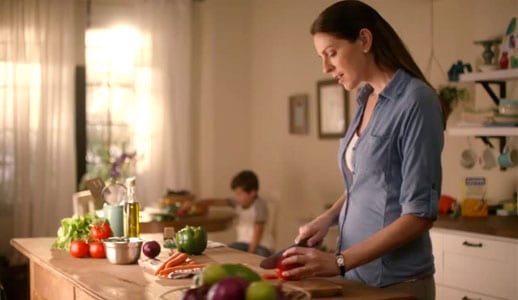 Dallas, TX, and New York, NY, October 7th 2015 – Let's face it – life happens, no matter what you're doing. When it comes to cooking, everyday chefs may not have a lot of time, or the right kitchen tools, or the perfect culinary skills, and so they occasionally make mistakes. Nonetheless, they give their best to every meal they prepare. And, although they may not be experts in the kitchen, they know that they can rely on quality ingredients time and time again.
"Consumers credit GOYA's quality, reliability and flavor with helping them prepare even better meals, while taking away the guesswork. GOYA products help to make their recipes successes," says Sarmiento.
Diversity
The campaign, which started running in four different cities in the U.S. – New York, Philadelphia, Boston and Washington, D.C. – highlights GOYA's cross-cultural appeal and celebrates the diverse lifestyles of its consumers. Each film shows protagonists in real-life situations that occur in their kitchens as they prepare GOYA-inspired meals. The films each have their own theme track inspired by the rhythm and lifestyle of the characters. (Check the film clicking here http://www.dieste.com/provoke-daily/all/blog-entry/real-life-chefs )
Social Media Content
Dieste also created a fifth film specifically developed for social media. It will be featured, starting in mid-October, on GOYA's social media channels (YouTube – https://www.youtube.com/user/GoyaFoodsChannel – and Facebook – https://www.facebook.com/GoyaFoods), and it is currently running on iHeart Radio properties. The film and concept, according to Ciro Sarmiento, are a special salute to "Real Life Chefs" everywhere.
Creative Platform
GOYA Director of Marketing Alvaro Serrano says that "Real Life Chefs" is a powerful and versatile creative platform. "This rich and insight-driven concept allows us to develop additional consumer touch-point programs through different channels such as interactive, digital and social media. The films are the kick-off to this exciting new campaign for GOYA," says Mr. Serrano.
About GOYA:
Founded in 1936, Goya Foods, Inc. is America's largest Hispanic-owned food company, and has established itself as the leader in Latin American food and condiments. Goya manufactures, packages, and distributes over 2,200 high-quality food products from the Caribbean, Mexico, Central and South America. Goya products have their roots in the culinary traditions of Hispanic communities around the world; their combination of authentic ingredients, robust seasonings and convenient preparation make them ideal for every taste and every table. For more information on Goya Foods, please visit www.goya.com. Follow Goya on Facebook, Twitter, Instagram, YouTube and Pinterest at @GoyaFoods.
About Dieste, Inc.
Dieste, Inc., the company for the new multicultural connected age, develops creative solutions and services to grow our clients' businesses. As an innovator in our field and the most awarded agency in its class, Dieste, Inc. is a three-time Ad Age Multicultural Agency of the Year winner. We are at the crossroads of technology, design and addressability, and our work spans from business consulting and product innovation to mobile/social communications, e-commerce and brand development. Dieste was established in 1995 and is part of Diversified Agency Services, a division of Omnicom Group Inc. (NYSE: OMC). Dieste, Inc. is located in New York, NY, and Dallas, TX. www.dieste.com
About Diversified Agency Services
Diversified Agency Services (DAS), a division of Omnicom Group Inc. (NYSE: OMC) (www.omnicomgroup.com), manages Omnicom's holdings in a variety of marketing communications disciplines. DAS includes over 200 companies, which operate through a combination of networks and regional organizations, serving international and local clients through more than 700 offices in 71 countries.