By: Bill Colón
The first time I came to live in the United States was when I was still a child in the late fifties.
I remember how hard it was to get green or ripe bananas, or avocados, when the great Latin american immigration had not yet begun and there wereo nly a few families, all Puerto Ricans, in downtown Jersey City. My father used to make a special trip by train every two weeks to visit shops in Upper Manhattan and the Bronx, and came loaded food that could well contain the desired green plantain to make 'tostones', or the cassava we could not find where we lived. My mother managed to prepare tasty meals and dinner to our liking. It was a tremendous ordeal to get the ingredients to make delicious boricua cakes.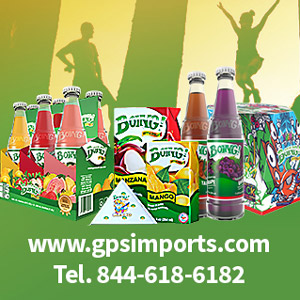 At that time the "Hispanic" term did not exist, and Anglos called us "Spanish" or the pejorative "Spic" when they wanted to insult us.
"Spanish" Shop owners had not yet been moved across the Hudson River and we lived isolated in Jersey. The supermarkets and grocery stores offered little or no choice of what we liked. By obligation, we learned to eat pizza, hot dogs and burgers we did not know in our country of origin. At school, no rice or beans, and a lot of "meat & potatoes".
To not starve, we had to make a forced 'crossover'. Things have changed a lot.
In recent decades the 'crossover' is backwards. Perhaps pressured by the continued growth of the Latino market and globalization, Anglos have learned to enjoy and consume much of our own, starting with tacos and tortillas and ending with the recognition the excellent Peruvian cuisine.
Goya, the first company to recognize and ventured into food distribution exclusively serving the Latino market (starting with Puerto Ricans in the thirties), took the "crossover" seriously, and today, much of their sales are achieved on the Anlgo market. But there is another "crossover". One we might call the Latino "crossover".
Thirty or twenty years ago, I confess, I did not know what a "pupusa" was. I learned to eat them when my son met a girl from El Salvador and we realized the excellence of this Central American cuisine.
And what about the "paisa" or "causa"? And the ingredients needed to prepare these dishes?
We live in a Latino market that integrates constantly. For me, visiting a restaurant with Spanish or Cuban food (and the entire Caribbean cuisine) is the same as savoring a paisa or enjoy a well-made causa. We have also learned to eat at home. And I'm no exception. I am, possibly, the rule.
This observation can serve as a lesson to food providers and offer their products in the Latino market in the United States. Here there is not only the market called "nostalgic" -regarding the natives of each specific country- whom now are immigrants here. There is also the Latino "crossover" market. Perhaps difficult to quantify empirically, but there is.
To exporters we can advise: If your product comes from Mexico or Peru, or wherever it comes from, don't direct your sales strategy only to the natural "nostalgia" market; Also plan how you can reach those of us who are included in the "crossover".