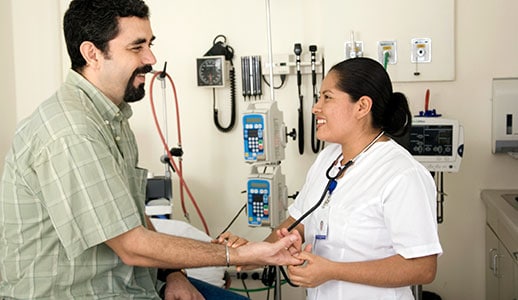 The number of uninsured Hispanics decreased 40% in the past seven years thanks to the Affordable Health Act, As a result, the percentage of insured Hispanics has reached its highest level ever.
According to a recent survey, the majority of Hispanics think favorably towards the law's adoption, otherwise known as Obamacare, due to its positive impact so far.
The survey showed that on average over 30% of this population sector believe that the law improved their ability to obtain and maintain health insurance coverage, the price of their policies and the quality of health care they receive.
Hispanics: 82% Have Coverage
The survey prepared by the Center for Health Policy at the University of New Mexico and the organization Latino Vision revealed that 82% of Hispanics have health insurance now, compared to the 17% which remain uninsured.
Gabriel Sanchez, Executive Director of Latino Vision, said this percentage is the highest recorded for Hispanics since 2008. She noted that in 2013, 28% of Hispanics were uninsured.
"We can conclude from this data that in terms of expanding coverage among Hispanics, the Affordable Health Act is clearly working," Sanchez said during the presentation of the survey results.
The law's impact on expanding coverage was reflected in the 8% who said they obtained health insurance through the market exchange system implemented by the federal government to facilitate enrollment in the new law.
65% of respondents said they have not required access to health insurance through this option. Either they already had coverage before the enactment of the law, or they decided to keep their current plans.
Despite these advances, the survey found, government outreach programs that aim to reach a greater number of Hispanics regarding Obamacare continue to face serious problems. They indicated that 25% stated they did not have any information on the law up until now.
Also, it is noted how thousands of people still face problems obtaining health insurance through the exchange markets. 21% failed to do so due to the issues they faced during this process.
To obtain more information on The Affordable Care Act visit http://www.hhs.gov/healthcare/ and to sign up for health coverage visit https://www.healthcare.gov/